Description
BLUEBERRY FLAVORED WATER INFUSION DROPS
"Memory-Focus and Immunity support"
Light, fresh blueberry flavor
Immunity support from the combination of blueberry super fruit and white tea for a highly concentrated dose of antioxidants
May support memory, focus
Great taste helps you drink more water for healthy hydration
Naturally sweetened with stevia leaf and lo han fruit for zero calorie sweetness
Free of sugar, artificial sweeteners, caffeine, and gluten
Low glycemic
Makes up to 60 beverages
Portable, with a convenient dropper that puts you in control
Eco-friendly packaging
Treat yourself to the delicious power of blueberries with the extra antioxidant benefits of white tea! A refreshing antioxidant-rich beverage that may even support memory and focus. Developed by nutritionists and perfected since 2003. Served in luxury spas and wellness centers, Pure Inventions Antioxidant Blueberry + White Tea Water Infusion Drops are the delicious way to drink more water while benefiting from this antioxidant-rich, super fruit formula.
Ingredients
Proprietary blend of blueberry Juice, white Tea (leaf) extract, elderberry (fruit) extract 137.50 mg
OTHER INGREDIENTS:
purified water, vegetable glycerin, proprietary blend of natural flavors, stevia (leaf) extract, lo han (fruit) extract, malic acid
This product has been sealed for your protection. Do not use if seal is broken or missing. Keep out of the reach of children. Those who are nursing, pregnant or taking medication, please consult your health care professional.
These statements have not been evaluated by the FDA. This product is not intended to diagnose, treat, cure or prevent any disease.
Made in the USA
Directions
Drop it in and mix it how you like it!  The choice is yours. Enjoy in still or sparkling water, with a hint of flavor or bolder flavor.  Try adding fresh citrus. Be your mixologist as YOU are in control!
SHAKE WELL: Mix 1-2 full droppers in 8-16 ounces of hot, cold or sparkling water. Enjoy as often as desired.
Blueberry Mint Lemonade
Beverage preparation by the glass:
Fill a 16-20 oz glass with ice
Add your favorite water (flat or sparkling)
Add a handful of mint leaves (bend or tear for delicious minty flavor)
Add 2 full droppers of Pure Inventions Blueberry with White Tea
Squeeze in the juice of 1/2 lemon
Shake or stir
Garnish with fresh mint and sliced lemon
By the Pitcher:
Simply double all the ingredients in the recipe.
Reviews
Customer Reviews
06/07/2021
Steve B.

United States
I recommend this product
I love this product!
Tastes wonderful
06/14/2021
Pure Inventions
Thanks Steve! We work really hard on our taste profiles and so pleased they are working for you!
04/22/2021
Lin S.

United States
Refreshing
I always prefer to drink water and your drops make the experience delicious!
05/15/2021
Pure Inventions
Thank You Lin! We are so pleased that you are enjoying!
03/03/2021
Carolyn C.

United States
Like it
Ordered peach first and don't like it the way I like the others. It has a strong flavor. Really like the coconut.
03/11/2021
Pure Inventions
Hey Carolyn, Thank you for taking the time to review our products. The green tea is a very concentrated and powerful blend so it will have a stronger taste. Try diluting and add some fresh squeezed lemon! When you add citrus it helps to increase the absorption of the antioxidants. Its delicious hot and in sparkling water. Be Well...Stay Hydrated!
03/02/2021
Emily V.

United States
A little pricey but worth it!
I am in desperate need of drinking more water and this is one of the few things that will get me to drink more. Tastes great without bad additives. I was hesitant about the cost but per glass it's worth it. Thanks!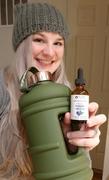 03/03/2021
Pure Inventions
Hey Emily!!! Love,love love your picture! Makes us all smile over here at Pure Inventions! We are so glad this helps you drink more water and you are getting the added bonus of powerful antioxidants! Be Well...Stay Hydrated!
02/18/2021
Kathy C.

United States
Bitter and un-drinkable
Very bitter flavor of green tea, didn't taste blueberry at all. I dislike this and probably will just have to throw it away and waste my money on this expensive and unappealing product.